Nourish your soul,
revitalise your energy
Join Julianna on a Yoga & Ayurvedic journey to self-empowerment & healing.
21st – 28th May, 2017
7 days and nights surrounded by Bali's beauty & tranquility to practice optimum health. View the flyer below for more information.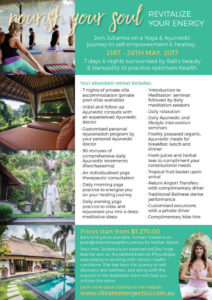 Contact Julianna on jewls@vibrantenergetics.com.au for more information and to book.